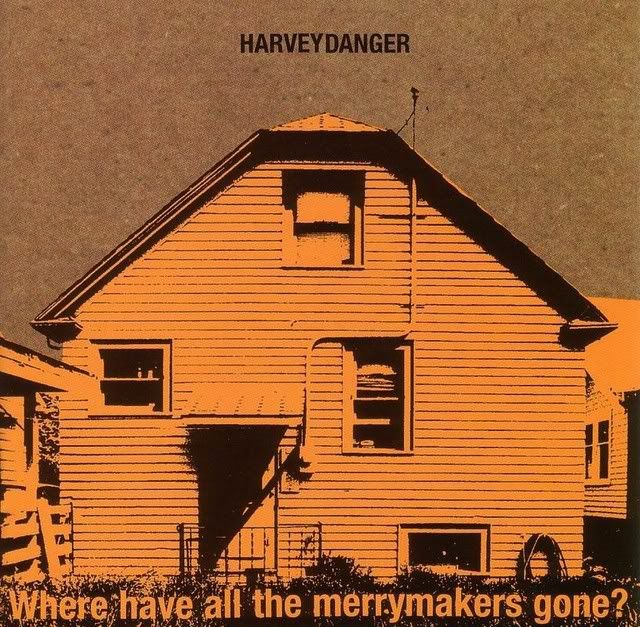 I pride myself on various areas of study but music has never been one of them.  I don't make music recommendations based on an argument but just out of my desire to share my love of a song or artist or album with another person.  When it comes to music, there's no point in arguing because I won't win the argument and I don't really care if I do.  Music is so primal and hits a level so deep, that sometimes a rational argument isn't enough.
With all that in mind, I have always loved the band "Harvey Danger".
It's not a completely indefensible position.  Sure, they didn't revolutionize music, but it was unfair for them to get written off as One Hit Wonders when the other tracks on their albums were just as good if not better.  Any band that leads off their debut album with a track called "Carlotta Valdez" based off Alfred Hitchcock's "Vertigo", cannot be bad.  Their songs ranged from sorrowful ballads to merry insanity pop-rock.  And while I always found tracks like "Flagpole Sitta", "Sad Sweetheart of the Rodeo", and "Cream and Basterds Rise" a lot of fun, it was the sad songs of deep anguish that continue to stick with me.
But they never come off as emo because of Sean Nelson's unique voice that always came off as sad wisdom and earned experience rather than a whiny twat who just got rejected by the girl he was stalking.  I love all three of their albums because of those songs. But there was the sad knowledge that most people would never hear them.  Harvey Danger would never make a comeback because that's not what One Hit Wonders do.  I like to imagine that I could back to 1997 and do a better job of helping the band survive past "Flagpole Sitta".  The studio chose "Private Helicopter" as the second single off "Merrymakers" but it's too awkward a track for mainstream play.  "Carlotta Valdez" would have been the smarter choice and had that succeeded, then they could have gone in with the ballad "Problems and Bigger Ones".  In terms of the other ballads on the album, "Wrecking Ball" was way too dark and "Radio Silence" wouldn't be a bad choice but it would require a radio-edit since the song is fantastic (I'd say it's the best on the album) except it finishes after 5 minutes and 16 seconds only to have another 3 minutes and 10 seconds where the band made a big mistakes and used ear-piercing static that ruined what they'd accomplished at the beginning of the album.
I always wanted to see them play live but that's never going to happen.  Harvey Danger played their last show Saturday night to a sold-out crowd at The Crocodile in Seattle, WA where they first started playing serious shows as weekend performers.
But before they went, they release one last EP for "Little Round Mirrors" and the last track was a live version of "Radio Silence".  But unlike other live versions of songs, you don't hear a crowd or any breaking of the song to react to that crowd.  It's the original song but far improved with Nelson, Jeff J. Lin, Aaron Huffman, Michael Welke, and Rob Knop singing and playing their hearts out.  And the last 3:10 seconds of static removed.
I wish they were going to make more albums even if it was through indie labels and I wish they would tour even if it were just regional instead of national.  But it's done.  It's done and I have 31 of their tracks on my computer.  I wanted to leave you with the live version of "Radio Silence" because it's such a beautiful song and maybe it will make you understand why I loved their music so much.
Radio Silence (Live)
Download this Mp3 @
Booster MP3
Leave a comment
You must be logged in to post a comment.
Recent Posts
Categories
Archives